Swung Rhythms
Everything we have played up to this point has been "straight", rhythmically speaking. You could compare a straight rhythm to the sound of an army marching! 1-2-3-4! Perfectly uniform and consistent beats; the sound of an army marching is totally straight, just like everything we have played until now.
"Swung" rhythms, however, are somewhat like the sound of horses walking! This more uneven rhythmical sound is known as swing. If that's difficult to understand, don't worry! It's a difficult concept to describe in text alone, so let's simplify things by taking the universal pattern we're already familiar with and changing it to make it swung!
Changing Chords With Swing
Let's take a simple chord chart and the universal strumming pattern, and use it to compare straight and swung beats. Listen to the audio tracks below to hear the difference. Both tracks use the same chords and the same strumming pattern but sound different to each other. The chord chart and strumming pattern are as follows: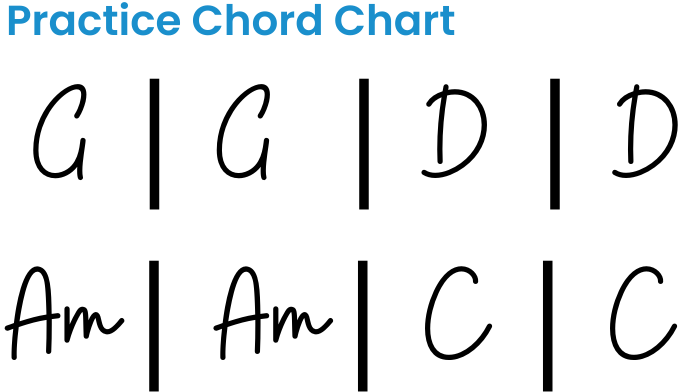 This concept can be really hard at first, as you train your ear to recognise the difference between the two rhythms. One of the best things to do to get used to the difference is simply to listen to well-known music that is either straight or swung. For example, blues music is almost always swung. Try a modern classic like "Sweet Home Chicago" by Robert Johnson to get a feel for that swung sound. On the other hand, most indie bands will play straight rhythms. For example, "I Bet You Look Good On The Dancefloor" by Arctic Monkeys. Take your time with this as the next tune we'll cover is going to be swung!